---
About the Lewes Archaeological Group
Lewes Archaeological Group was founded in 1968 to investigate prehistoric and historic remains in the town of Lewes and the surrounding district. Although the Group does not currently run any excavations, it has each year a full programme of talks [Lecture Programme]. It also has occasional tours and walks. Members - often in cooperation with other societies and organisations - are involved in excavations and other projects such as field walking, surveying and watching briefs. Details of opportunities are included in the Group's twice yearly newsletter [Newsletter] and also in the events page [What's on]. The Group's lecture programme and occasional site visits and walks bring together those interested in archaeology and history from across the area. - Lewes is rich in archaeology. [Archaeology of Lewes]
Everyone is welcome to attend LAG's talks, but membership [Membership] gives a reduced entrance charge. Members also receive the newsletter and receive invitation by e-mail to special activities, such as walks or tours.
Click here for the current Newsletter

LAG officers and committee members and Constitution
Contact
For further information, please contact Paula Stanyer by email at paulawodcohen (at) yahoo.co.uk.
---
ZOOM TALK

Fri 15 January at 7.30pm
A Sussex Hall House of 1473 with LAG member Peter Varlow
This is a well-illustrated talk about the architecture, archaeology and documentary history of a typical late-medieval timber-framed hall house in the Weald of Sussex. Peter draws on evidence from building recording, documentary research, archaeology and dendrochronology that he and Sally Varlow carried out when researching their timber-framed Chailey farmhouse, and gives a colourful glimpse of the life and times of its people - the builders, owners and tenants - over nearly 550 years. He is a member of the Vernacular Architecture Group and the Wealden Buildings Study Group, and author of 'From Trees to Timbers: a comparative study of timber quantities in houses', Vernacular Architecture journal, 2015. He and Sally captured all their findings in their book, In An Old House, Pomegranate Press, 2017.

The talk will be free, but is limited to 100 people by our Zoom subscription. We are using a registration system for the talk which automates some of the administration. Please click on the link below register in advance:
https://us02web.zoom.us/meeting/register/tZAsf--gqDssG9b5B6R5nGEltNDNq0lg8B4h

After registering, you will receive a confirmation email containing information about joining the meeting. If you will be watching with other people on one device you only need to register once.

After registering, you will receive an automated confirmation email containing your personal link for joining the meeting. Contact Anne Locke if you have any queries. The email will include a link at the bottom for you to cancel if you are subsequently unable to attend.
NEXT LECTURE

Fri 20 March
This talk has been cancelled. We hope to be able to reschedule to a date in the Spring
Paula is hoping to organise the AGM by email.
Malling, Lewes: An Anglo-Saxon Estate, a Christian Centre and Medieval Parish with John Bleach
Custodian of Lewes Castle for the Sussex Archaeological Society, 1977-2013. John will talk about Malling, Lewes as an Anglo-Saxon estate extending from Southerham to the Sussex/Kent border and as an important Christian centre. He will discuss Malling as a medieval estate with chapels in the Cliffe and Southerham areas of Lewes.
This talk has been cancelled. We hope to be able to reschedule to a date in next winter's programme of lectures
Fri 17 April
Stonehenge Unveiled: large-scale field projects and the transformation of the Stonehenge landscape with Paul Garwood
Paul is a Senior Lecturer in Archaeology at the University of Birmingham and he will talk about his recent work in the landscape around Stonehenge which is recovering a plethora of new information from the Mesolithic to the Bronze Age.

Click here for the full 2019-2020 programme.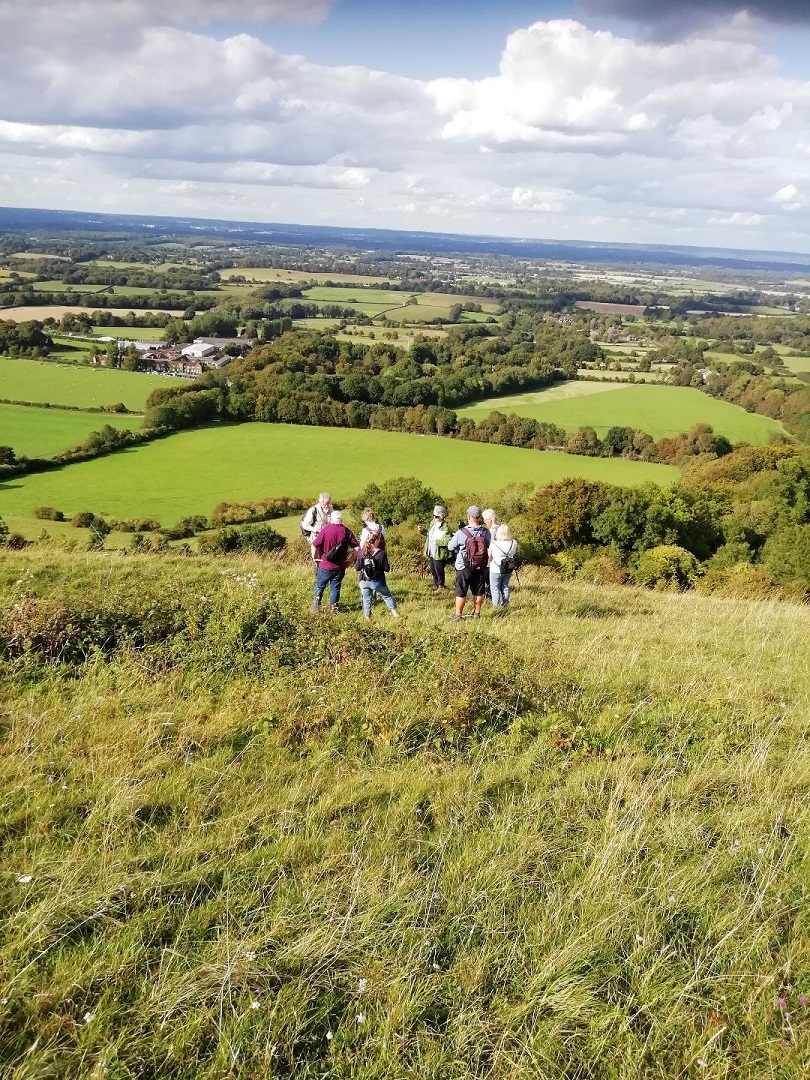 LAG Plumpton Walk.
---
FROM THE LATEST NEWSLETTER


Lewes: Peace Garden, Castle Precincts
(NGR: TQ 41471 10128). (CBAS Ltd Site Directors: Caroline Russell and Emily Walsh). Monitored groundworks for the reconstruction of a garden within the scheduled monument of Lewes Castle. The excavations did not extend deep enough to expose any medieval walls or features. The bank was made up of redeposited topsoil, presumably derived from the construction of the adjacent car park. Its removal exposed one side of some brick and stone walling that partly enclosed the existing circle, which is an infilled pond. A D-shaped brick structure was built onto the stretch of stone walling. It had a rendered lining and served as a water feature, with a water pipe running into the top of it. An assortment of finds were found within the bank material, particularly within the backfill of the water container; these included pieces of gypsum and carved stonework (marble was present); bricks; small glass jars and bottles; and pottery, most of which comprised large fragments of garden pots and urns. A selection of finds was removed off site for analysis. Ground reduction of the footpaths and circles removed a very mixed, redeposited topsoil to reveal an underlying layer containing flint shingle; the distinction between these two deposits was often not very clear. A single skin brick wall was exposed at the Limit of Excavation within one of the new footpaths, beside the car park. It had an exposed length of 1.41m. The excavation of the service trench comprised the deepest excavations on Site, and exposed deposits interpreted as the redeposited topsoil and shingle layer, and an earlier topsoil (although there was very little difference between the three of these deposits), and an underlying chalky deposit of made ground at the base of excavation. At the southwest end of the trench, a walled circular structure, 0.71m wide internally, was exposed, in front of the flint garden wall that bounded the Site. The feature was exposed to a depth of 0.61m (nine courses) and was interpreted as a possible well. The chalky deposit of made ground may have been that deposit exposed at a higher level within one of the excavated footings for a bench.
---
New Hon President: Mike Allen
I was honoured and flattered to be asked to be your President. I know a number of members having been involved in archaeology in the Lewes area for about 45 years but there are some don't know me, and who I heard asking questions like, who is he?, what has he done anyway? … so to you don't know me so I thought I'd say a few words.
I started my interest in archaeology as an 11 year old schoolboy in Lewes, and in 1973/4 started digging at the Groups rescue excavation of the Bronze Age round barrow on Round-the-Down with Richard Lewis, and subsequently at the Priory with him. Both my parents were interested and also started digging; regularly turning up on sites as a family. My mother had started adult evening classes – I would wait up for her to return to read her notes – it was decided this was pointless so, with permission from County Education Officer, I attended archaeology adult evening classes from the age of 13.
I read archaeology at university and then went on to study at the Institute of Archaeology concentrating on environmental archaeology (esp., soils, sediments and snails).
Following graduation and excavation of Ashcombe Bottom dry valley with LAG, I did a PhD at Southampton University then was the first environmental manager at Wessex Archaeology running that section for nearly 20 years before becoming being a freelance environmental and geoarchaeological specialist and building my own lab.
I have worked on and am working in the Stonehenge and Avebury landscape, and Dorchester and Cranborne Chase and in Sussex on the Westhampnett bypass. I've worked in France, Germany, Malta and Cape Verde and published widely (about 15 monographs/books, many articles and 100s of contributions), with my recent local books include Eastbourne; aspects of archaeology, history and heritage (2014), Archaeology of the Ouse Valley (Moore, Allen & Rudling, 2016), and my textbook Molluscs in Archaeology (2017).
I am a Fellow of the Linnaean Society, awarded fellowship of the Society of Antiquaries (FSA), and have been a member of IFA (MCIfA) since c 1996). I am member of the executive council of the Prehistoric Society, former President, and now Vice President, of the Conchological Society of Great Britain & Ireland, Series Editor of the Prehistoric Society peer-reviewed Research Papers Monograph series and, in an unpaid capacity, am Series editor of Oxbows Studying Scientific Archaeology Series, and their Insights series.
I followed both my parents onto the committee of LAG (my mother was the newsletter editor for 23 issues over 4 years, and a former VC), becoming Vice Chairman in 1984-7, during which time I excavated Ashcombe Bottom (SAC 2005), ran a Lewes symposium and a Lewes Archaeology week.
So I was honoured to have been asked to be your president, and as I feel the Group gave me many opportunities (which I readily took) - it nurtured and helped me into my subsequent career; in my term as President I advise the Group with is work, and with celebrating its 50th anniversary.
Mike Allen
---